Hand Sewing Needles
NEEDLES FOR FABRIC
English Sewing Needles

We Feature John James English needles, made of the finest quality Sheffield steel which is hardened, then tempered to insure the optimum amount of flexibility. Each and every one is given a copper coating to guard against corrosion. Each needle is then polished to the smoothest surface attainable, allowing them to pass through your fabric with ease. The eyes are free from burrs and are finished to make threading enjoyable, and to prevent thread from fraying or breaking, which is not enjoyable.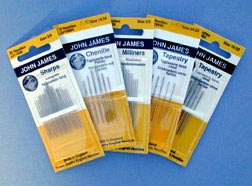 #176-SH, Sharps, 20 needle pack, sizes 3 to 9, $1.90/pack
Great for general sewing.
#176-CH, Chenille, 6 needle pack, sizes 18 to 24, $2.00/pack
Large eye and sharp point, good for working with silk floss.
#176-MI, Milliners, 16 needle pack, sizes 3 to 9, $1.90/pack
Preferred for working on hats, or work with lots of running stitches.
#176-TAS, Tapestry, 6 needle pack, sm. sizes 24 to 26, $2.00/pack
Tapestry have a blunt point to pass through needlework canvas.
#176-TAL, Tapestry, 6 needle pack, lrg. sizes 18 to 22, $2.00/pack
NEEDLES FOR LEATHER
English Glovers Needles
Why exhaust yourself trying to push inferior needles through leather, when you can use the finest quality English needles made? Try our glovers needles for all your stitches. Made of Sheffield steel and manufactured by skilled craftsman following a 200 year old tradition, these English Glovers Needles have sharp triangular points that are ground smooth to glide through leather.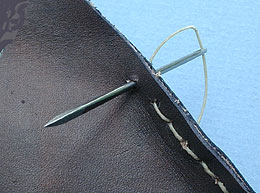 (#172-000 Shown)
#172-1, 19 gauge, .04" dia., approx. 1 3/4" long, $.65 ea.
Size # 1 tackles the most tempestuous buckskins
#172-4, 21 gauge, .03 dia., approx. 1 1/2" long, $.65 ea.
Size # 4 works great for lighter garment leather
#172-7, 22 gauge, .027"dia., Approx. 1 3/8" long, $.65 ea.
size # 7 makes sewing kidskin a breeze
#172-10, 24 gauge, .021"dia., Approx. 1 1/4" long, $.65 ea.
Size # 10 is great for quillwork
Harness Needles
The same quality as our glovers needles, but with a dull rounded point to be used when you have punched holes with an awl first.


( point has been enlarged for clarity )
#177-1/0, Size 1/0, 19 gauge, 2 1/4" long, $.65 ea.
Don't forget to check out our
Linen Thread!
CURVED NEEDLES
"C" Shaped needles
These contoured needles give you better leverage and maneuverability around tough areas that are hard to get at with a straight needle.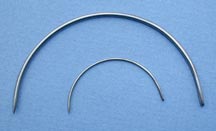 #174-4C, Curved needle, Triangular point, 4" long, $3.75ea.
#174-2C, Curved needle,sharp round point, 2" long, $1.50 ea.
"S" Shaped Needles
Many of our customers prefer these "S" shaped needles over any other style. Our "S" needles have a triangular point.

#173-4S, "S" Needle, triangular point, 4" long, $4.00 ea.
#173-5S, "S" Needle, triangular point, 5" long, $425 ea.
STRAIGHT NEEDLES
#172-6L Straight Needle, 6" long, $4.60