Threads in Natural Fibers
SILK THREAD
Pure Filament Silk Thread
Filament means that our silk threads are taken directly from the highest quality fibers of the silkworm cocoon. Filament silk is unique among natural fibers in that it does not have to be spun. It naturally occurs as long continuous strands. Thus, it will not fuzz out like spun silk. Its strength lies in this and also its elasticity,which allows it to expand and contract with the pull of fabric in response to body movement. Seams are smoother, stitches tend to disappear. Silk's molecular structure of tiny prisms gives it a smooth surface that mirrors the fabric color it is sewn through.
Both our three ply, Z-twist, sewing and buttonhole threads are superior for machine sewing and are a joy to stitch with by hand, as well. Because of silk's strength an elasticity, it can be used on most medium to lightweight textiles, including wool and fine glove leathers. Even today the finest men's wool suits are sewn with silk thread.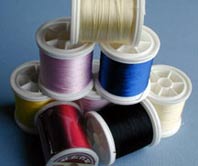 #145-50, Silk Sewing Thread, 50 weight, 110 yards, $7.00/spool

#146-1000 Silk Buttonhole Twist, approx. 22 yards, $5.50/card
Colors in Silk Threads
White Black Delft
Ivory Green Navy
Canary Forest Olive
Gold Mint Green Lavender
Old Gold Sage Wine
Vermillion Pink Brown
Slate Blue Sky Blue Buff
LINEN THREADS

Linen Thread, white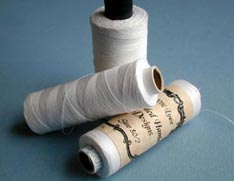 #130-60, Linen Hand Sewing Thread, size 60/2,
25 gram tube, approx. 400 yards, White only, $11.00/spool
This is a good choise for medium weight fabrics

#130-100, Linen Hand Sewing Thread, size 100/2
25 gram tube,approx. 500 yards, White only, $11.00/spool
This size works well with finer weight fabrics, such
as hankerchief linen
Linen Thread In Colors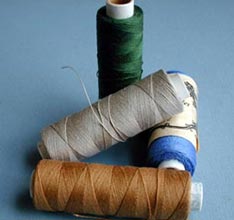 #130-35, Linen Hand Sewing Thread, size 35/2,
12.5 gram tube, approx. 200 yards, $18.00/spool
Size 35/2 works well with heavier fabrics and
for making buttonholes
Colors in Linen Thread
White Black Gray
Steel Blue Forest Ocher Cream
Waxed Linen
This thread is a heavy, five cord, waxed linen thats great for leather or canvas work.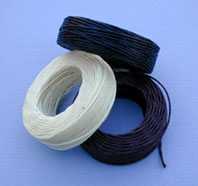 #134-5, Waxed Linen "Sinew", 25 yard coil, $8.50/coil
colors in Bone, or Black