100% Worsted Wool Twill Tape
Worsteds have been one of the most commonly used and the most dependable of staples in the history of the world, cultivated from only domesticated animals, and believed to be the first fiber woven into a textile. Wool's molecular structure makes it stain resistant and elastic, two qualities inherent in our solid color Worsted Twill Tape. It stretches to mold around the curves of a tricorn hat or keep stockings gartered, yet has a tensile strength greater than cotton.
Chevron design twill weave makes our worsted tape decorative, long-wearing, and authentic, whether you are using our 7/8" width for wear strips on a lady's skirt, or using the 1/2" width to replicate the binding on a crewelwork wallet. It also meets documented period specifications for military uniforms and battle shirts. Hues are bright, clear and fast, but may be easily dyed to "muddy" them up. To resist raveling of the free ends, cut them in an inverted V.
What's "Worsted"?
When wool is sheared from sheep, it is in different lengths. Being worsted means that only the long fibers of wool fleece are used in a fabric's manufacture, lending to it a stbility and a smooth, clear finish.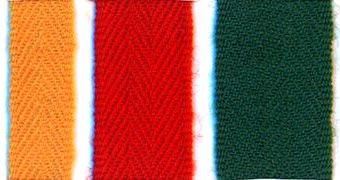 (enlarged to show texture)
#02-150, 1 1/2" wide: White, Scarlet, Sky Blue, Navy, Black $8.00/yard
#02-875, 7/8" wide: Natural, Yellow Gold, Scarlet, Navy, Forest, Black $5.75/yard
#02-500, 1/2" wide:Natural, Bunting Yellow, Yellow Gold, Scarlet, Kersey Blue, Navy, Black $3.65/yard
#02-375, 3/8" wide:Natural, Bunting Yellow, Yellow Gold, Scarlet, Kersey Blue, Black $ 2.95/yard
QUANTITY PRICING
#R02-150, 1 1/2" wide, 55 yard roll $396.00
#R02-875, 7/8" wide, 55 yard roll $285.00
#R02-625, 5/8" wide, 55 yard roll $153.00
#R02-500, 1/2" wide, 55 yard roll $180.00
#R02-375, 3/8" wide, 27 yard roll $73.00