Striped Regimental Lace
Our striped 1/2" worsted wool twill tapes meet strict specifications historically set forth by official written order (such as the Royal Warrant) to British, American or European army command. Typically, an individual trim was of a particular twill weave structure incorporating anywhere from one to four stripes or "worms" set on a natural white background, either symmetrically or offset. This uniform trimming then identified the soldier, which was important where the fire and smoke of battle limited visibility.
Please list your choice of Style when ordering; or send us documentation, drawings and color samples for your particular regimental lace (minimum order required), and we will be happy to work with you. Please note that prices below are for striped lace only, and do not apply to candy- striped or zig-zag patterns.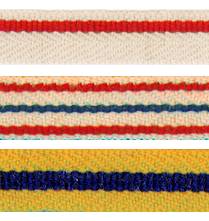 (enlarged to show texture)
STYLES READILY STOCKED
Natural/Offset Scarlet:
1/8" Scarlet stripe set in 1/8" from trim edge on a Natural background, generally used for 42nd Highlanders
Natural/Double Scarlet/Royal:
Central Royal stripe and two Scarlet stripes set in from each edge, on a Natural background, generally used for the 84th Regiment
Bunting/Central Navy:
1/3rd wide Navy center stripe on a Bunting Yellow background, musician's lace

#025-5, 1/2" wide $6.35/yard
QUANTITY PRICING PER 55 YARD ROLL
#R025-5, 1/2" wide, 1 roll order $314.00
#2R025-5, 1/2" wide, minimum 2 roll order $282.00