Standard All-Cotton Twill Tape
Twill (colloq. "tweel") woven goods have been around for centuries, known in the more recent eighteenth century under different names, such as satin (silk); drill or jean (cotton); serge (wool); or ticking (linen), to name a few. Twill weave makes a strong fabric, not easily torn or ripped apart. Trims can be more easily contoured than with other weave structures. Cotton, a vegetable fiber, resists insects, stands up better to bleaches and detergents, and is unequaled for washability. Having a stiffer drape than other fibers enables it to hold its shape better.
Our workhorse line of 100% cotton twill tape sports a herringbone design (four equally spaced rows of reverse twill weave), and stands up to common, everyday wear and tear. We recommend that you wash it before use, to pre-shrink it and insure fastness.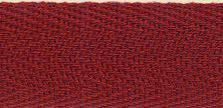 (enlarged )
COLOR SELECTION

NOTE: Colors will appear different depending on your browser and monitor. Lavender comes in 3/4" only. Not all colors shown are available. See listing below.

COLORS AVAILABLE
White, Natural, Tan, Lavender (3/4" only), Black, Pewter, Navy, Forest, Red, Wine


#03-125, 1 1/4" wide $.95/yard
#03-750, 3/4" wide $.60/yard

QUANTITY PRICING PER ROLL
#R03-125, 1 1/4" wide, 72 yards $61.50/roll
#R03-750, 3/4" wide, 72 yards $38.80/roll