Metallic Braid & Tapes
Real Gold and Silver Bullion Wire Braid
Metallic Officers Lace
The traditional central checkerboard detail flanked on either side by alternating bands comprise our Gold and Silver bullion tapes . Our Officers Lace is made in the same manner as it was originally: base warp threads support interwoven precious metal wire. The intricate weave pattern means business on military officer's uniforms. And native warriors often decorated themselves with metallic lace taken from fallen enemies in battle. Whatever the use, nothing looks and feels as authentic as using real metal lace.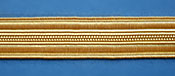 #25-25, 1/4"wide, Metallic Officers Lace, 9.00/yard

#25-5, 1/2"wide, Metallic Officers Lace, 11.00/yard

Order Silver or Gold in 1/4" or 1/2" or 1"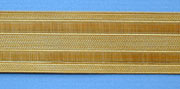 #25-100, 1 " wide, Metallic Officers Lace 14.00/yard

#25-150, 1 1/2" wide, Metallic Officers Lace, 17.00/yard
In Gold Only
Metallic Wire Braid
Let others be aware of who you are, with our wire mesh trim, a reasonably priced metallic mesh tape consisting of drawn "Gold" (brass) or "Silver" wire twisted together with base fibers to make up the very braid pictured here. It can be used on officers' coats and Civil War kepis, as well as anything that needs to pull rank. We recommend hand- stitching, although our machine sews through it quite easily. Since they are real metals, both will patina into deeper hues with time.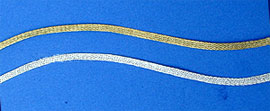 #23-187, 3/16 to 1/4" wide, Silver or Gold $ 2.25/yard
#23-125, 1/8 to 3/16 wide, Silver $1.75/yard