Fine Cotton Twill Tapes
Cotton as an industry in North America began in 1607 at the Jamestown settlement, with the planting of seed brought from the West Indies. This soon irritated England's woolen market. After imposing penalties for both wearing cotton and stealing or copying production machinery, England set out to establishing itself in this field, importing fiber from the American colonies for fabric manufacture. By the end of the 18th century spinning and weaving machines were developed (most notably the cotton gin). The 19th century saw England and the United States as the two largest cotton producers in the world.


Fine Cotton Twill Tape
Our fine twill tapes use a higher, finer thread count, making them sturdier but more delicate for your tailored garments. The different twill designs woven into each style below create a crisp, unique appearance. To identify them, we are designating these designs by the letters they resemble, such as "Z" or "V."
#04DV-75, 3/4" wide Double-V-Twill, Dark Green $.60/yard
#04ZD-75, 3/4" wide Z-Twill with double wide center bar, Teal Blue $.60/yard
#04ZD-5, 1/2" wide Z-Twill with double wide center bar, Wine $.40/yard
Ultrafine Cotton Twill Tape
Ultrafine is a luxuriously soft three-way herringbone with a lustrous finish, wonderful for small clothes, heirloom sewing, doll making, scrapbooking, couture clothing or museum restorations. The 3/8" width is exact as 19th century haversack or longjohn ties. Twill is the strongest of all weave structures, plus attractive to boot.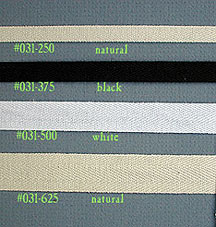 Colors available in all sizes: White, Natural or Black
SOLD PER ROLL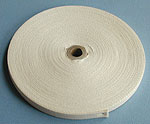 #R031-625, 5/8 in. wide, 72 yards, $ 25.75/roll
#R031-500, 1/2 in. wide, 72 yards, $ 22.60/roll
#R031-375, 3/8 in. wide, 36 yards, $ 9.70/roll
#R031-250, 1/4 in. wide, 36 yards, $ 8.00/roll