Tatting Shuttles
Used to adorn Victorian lingerie (and all kinds of other niceties), tatted lace transformed the simple act of tying knots into an art form. Manipulating a small oblong shuttle in the hand to make half hitches, the lacemaker speedily created loops "in air" as deftly as a magician. The name is English, meaning "tatters," and refers to its fragile appearance.
Although it became popular in Europe in the 19th century among women of leisure (an easily mastered way to show off one's hand skills at social gatherings), it is much older than this, and relates to 18th century knotting, which uses a larger shuttle with flat ribs to make knots which were then couched onto fabric as a form of embellishment.


Bone Tatting Shuttles
Natural material such as bone feels comfortable in the working hands, and unlike metal or plastic has a pleasant warmth to the touch.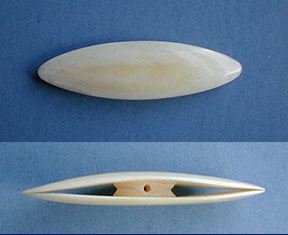 #510-B, Bone Tatting Shuttle $18.00 each