Cotton Bobbin & Tatting Lace
Until machine mechanization devalued the exquisitely complex designs produced by skilled hands, decorative laces named for the areas of Europe where they were produced, were highly prized, dearly bought and flaunted to show wealth. Whole vineyards were bartered in exchange for "cartwheel" or "Van Dyck" collars, ruffs and cuffs edged in or entirely of lace.
Both our Cluny bobbin laces and our tatted edgings are entirely hand made of cotton, ready to trim all manner of unmentionables, with hardly an effort required on your part. They are of very fine working with softly lustrous threads, giving them a most refined appearance. Cluny lace originated in an area of eastern France that became a major religious and cultural center, founded in 910 upon an abbey of the Cluniac Order, and housing a school of arts and trades.
All styles below come in White, but they may be tea dyed to achieve an antique look. Widths are overall measurements.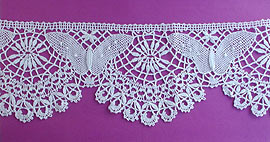 #33S-35, Scalloped Cluny Lace, 3 1/2" wide $12.00/yard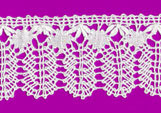 #33P-15, Plumed Cluny Lace, 1 5/8" wide $12.00/yard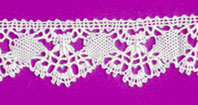 #33F-1125, Fan & Lozenge Cluny Lace, 1 1/8" wide $7.00/yard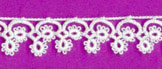 #34C-5, Clover Tatted Lace, 3/4" wide $4.25/yard


#34L-25, Looped Tatting Lace, 1/4" wide $6.00/yard