Caged Crinoline Kit
or have us
Custom make to your Specifications
The Kit:
Four years in the making, this caged crinoline kit is a Needle and Thread exclusive! Each component in your kit has been meticulously copied from an original in our collection. This cage shape that you will be creating is one that was popular in the 1850's to the early 1860's. This shape is perfect for any date you are portraying during the Civil War.
Have us custom make your cage crinoline.
We can custom fit your cage crinoline in our shop, or for those folks that are not able to visit, request a measurement chart so that we can fit your caged crinoline from afar. Please call for more details.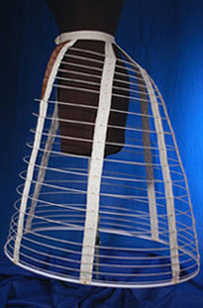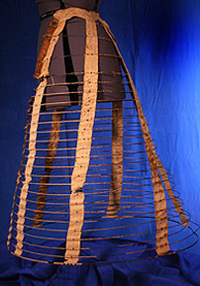 Our Reproduction Cage Our 1850's Original
For more detailed photographs of both old and new cages
click HERE
What your kit will include:
Introductory 10 page booklet


Instructional DVD



All parts needed to create a caged crinoline



Complete Caged Crinoline Kit,
#CC-95, 95 inch, $ 175.00
#CC-108, 108 inch, $ 185.00
#CC-120, 120 inch $ 195.00
Custom Made Caged Crinoline Please call us for details
95 inch, $ 375.00
108 inch, $ 385.00
120 inch, $ 395.00
Bulk wire price 500 yd $1.00 yd 1000yd .75 yd