Cotton Webbings
Our tough-as-nails webbing materials are ready to be tested on military or hunting equipage, tents, horses, furniture or the myriad of other essentials that able frontiersmen and -women need to survive.
Cotton Twill Webbing
Our #14 cotton webs are thin and lightweight for minimum bulkiness,yet very densely woven in a four way twill, giving them strength that endures abrasion and abuse.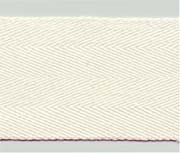 #14-250, 2 1/2" wide, Fine 4-way twill, White only $2.50/yard
#14-2, 2" wide, Fine 4-way twill, White or Natural $2.00/yard
#14-125, 1 1/4" wide, 4-way twill, Natural only $1.25/yard
Cotton Tabby Webbing
A corduroy effect created by a variation the tabby weave characterizes our #17 medium weight cotton strapping that can be used for 19th century braces, as well as canteen straps and gun slings. It is functional for buckle attachments as straps on leather or canvas bags.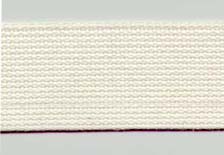 #17-2, 2" wide, Medium Weight, Tabby, Natural $1.65/yard
#17-15, 1 1/2" wide, Medium Weight, Tabby, Natural $1.15/yard
17-1, 1" wide, Medium Weight Tabby, Natural $1.00/yard
R17-1 1" wide, Medium Weight, 60 yard roll $54.00
Philadelphia Depot Canteen Strapping
During the American Civil War, canteens were slung with either sewn cloth or specilly woven webbings like the one offered here, once made for the Office of Clothing & Equipage at Schuylkill Arsenal. Our exact reproduction is taken from a strap on a corrugated canteen in a private collection, one of many canteens distributed by the Philadelphia Depot from 1862 until the war ended. Faithful to the original in every way, our one inch wide natural cotton is shuttle loomed from the same 20 weight/2 ply yarns, and sports a five panel herringbone twill interrupted at each panel by a horizontally ribbed bar. The light weight and feel of this tape is true to originals in several museums and personal collections.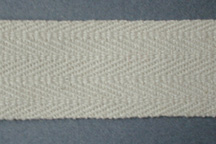 #16FG-1, 1" wide, 5-panel twill, Natural $4.75/yard